Green Death Tea and Pistachio Cupcakes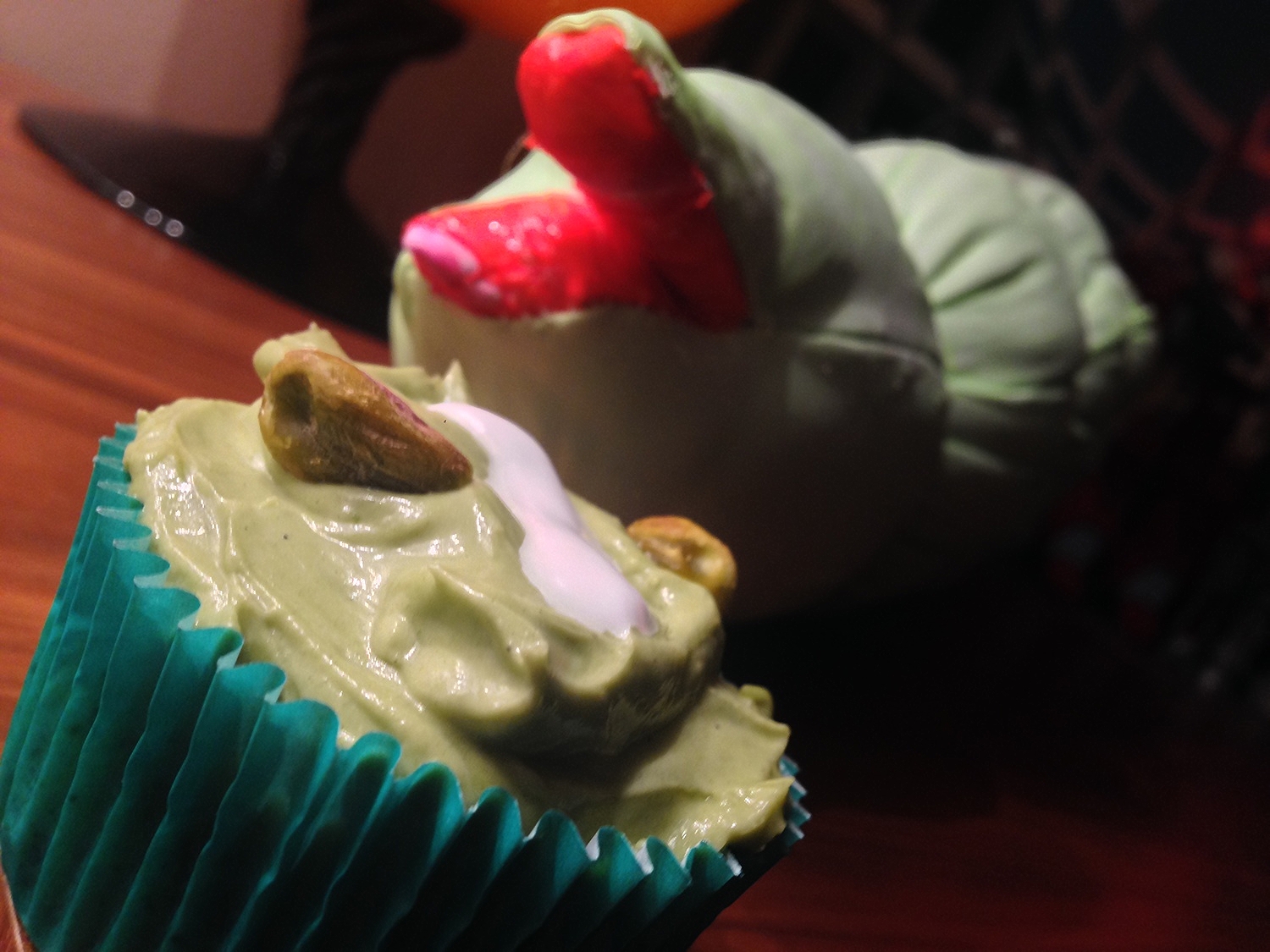 Served during the recording of Episode 28: You're Not Katharine Hepburn.
These delicious cupcakes originally appeared on the Spoonful of Flavor website, without the putrid giant maggot theme. You can find the original version of the recipe here.
Ingredients
Cupcakes
1 cup and 1 tablespoon plain flour
1 tablespoon corn starch
1 tablespoon green tea/matcha powder
1¼ teaspoons baking powder
¼ teaspoon salt
3 tablespoons (75g) unsalted butter, softened
3 tablespoons plain non fat Greek yoghurt, room temperature
¾ cup white sugar
1 egg
½ teaspoon vanilla extract
½ teaspoon almond extract
½ cup skim milk
½ cup pistachios, chopped
Frosting
170g low fat cream cheese, softened
1 cup icing sugar
1 teaspoon almond extract
½ teaspoon vanilla extract
1 teaspoon green tea/matcha powder
Method
Cupcakes
Preheat oven to 180°C (160° fan forced), and line a 12-cup standard muffin tin with paper liners.
In a large bowl, sift and whisk together the flours, corn starch, green tea powder, baking powder, and salt.
In the bowl of a stand mixer or with a handheld mixer beat the butter and greek yogurt on medium high speed until thoroughly combined, about 3 minutes.
Add in the sugar and beat again for another 2 minutes.
Add in the egg, vanilla and almond extract and beat until combined.
Add in a third of the dry mixture and beat just until combined, then add in half of the milk.
Repeat the process ending with the dry mixture.
Add in the chopped pistachios and mix just until combined.
Fill the paper cupcake liners ¾ full with the batter.
Bake the cupcakes on the middle rack of the oven for 16–20 minutes or until a toothpick inserted into the center comes out clean.
Cool the cupcakes completely on a wire cooling rack before frosting them.
Frosting
In the bowl of a stand mixer or with a handheld mixer add all of the frosting ingredients.
Beat the frosting starting on low speed until the powdered sugar is incorporated, then scrape down the sides of the bowl.
Turn up the speed of the mixer to high and beat until the frosting is light and fluffy.
Assembling
Pipe the frosting onto the cooled cupcakes with a pastry bag and tip or spread it on with a knife.
Sprinkle the tops with more chopped pistachios if desired.