Robert's Walnut and Chocolate Question Mark Podcake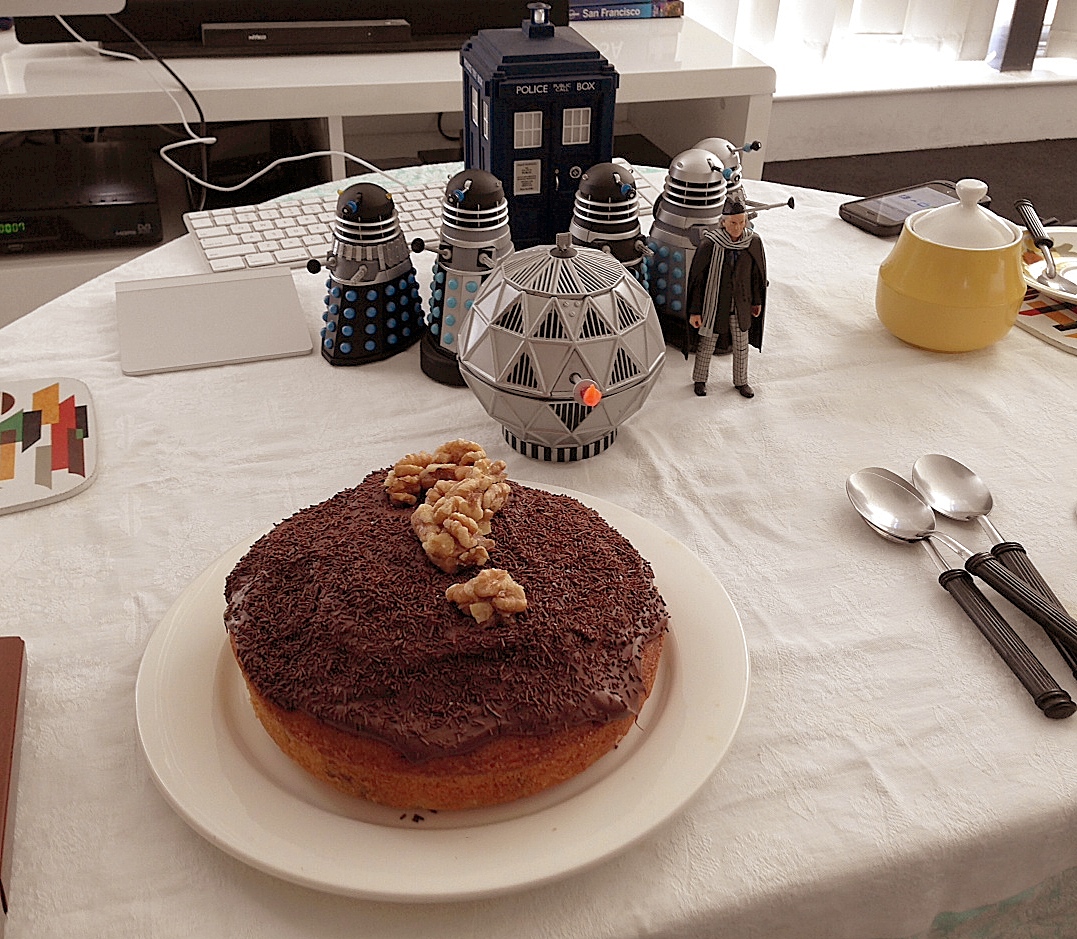 Served during the recording of Episode 3: Bernard Cribbins in Vinyl
Ingredients
1 manic cook, recently returned from waiting hours in the freezing cold for a Game of Thrones exhibition.
300 g butter, softened
3 teaspoons vanilla
3 eggs
1 cup of caster sugar
2½ cups of self-raising flour
1 bar of milk chocolate, broken up
1 cup of roughly chopped walnuts
¼ of a cup of icing sugar
¼ cup of chocolate sprinkles
Method
The cake itself
Set your oven on 180° and heat it up.
Mix together 250g of the butter, all the caster sugar, and 2 teaspoons of the vanilla. Mix it well until its a bit fluffy.
Add in the eggs, folding them in one at a time, and then mix in the milk and flour a little bit at a time.
Mix in the walnuts.
Grease a round cake in with butter and pour in the mixture.
Bake for an hour, and let it cool down.
The icing
Once the cake has cooled, boil half a saucepan of water, reduce it to a simmer and put another smaller saucepan in the water.
Put the broken up bits of the block of chocolate into the smaller saucepan and let them melt.
Spoon the melted chocolate onto the cake, and sprinkle chocolate hundreds and thousands on to the melted chocolate.
Put the cake in the fridge to let the chocolate set.
Allow the saucepan you melted the chocolate in to cool down, then use it to mix 50 g of butter, the remaining teaspoon of vanilla and the icing sugar.
Pour the icing into an icing piper. (If you don't have an icing piper, you can make a Blue Peter icing piper by snipping the corner off a small plastic bag, and squeezing the icing out of the hole.) Pipe the icing onto the top of the cake in the shape of a question mark.
Arrange walnuts on the question-mark–shaped icing.
Allow the cake to cool in the fridge.
Enjoy cake, while listening to the fourth episode of Flight through Entirety.